Plotting Our Return to the Stage 
As the new year is upon us, we reflect on arguably, one of the worst years in human existence. For other shitty years in human history, Entrepreneur published an article we found to be very insightful.
We only got to play a total of three shows. We had numerous shows planned for this year, just like thousands of other artists, but now we currently wait for a new normal where we can rock out live again. The three shows we did play, however, totally rocked.
Shows We Rocked in 2020: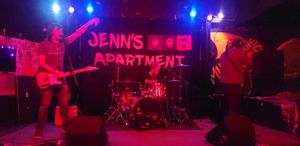 Mulligan's Pub in Grand Rapids Photo Credit: Elizabeth Taylor
When Will Jenn's Apartment Play Their Hometown of Lansing Again?
We wish we had a better answer, but we don't. As this is being written, January 2021, current reports from Live Music Blog, point to fall 2021 at the earliest. Unlike some serious dumbass people in this country, we believe in science and do not plan to play any show unless it is deemed safe by the CDC and supporting governing bodies. Returning to live music by the fall of 2021 sounds like a fantasy but we will remain optimistic and hope for the best.
When live music returns, the Lansing music scene will look a little different. The recent closing of The Loft in downtown Lansing was a huge blow to the mid-Michigan music scene and will be greatly missed. Our drummer proposed to his now, fiancee there, Roy Kirby busted his ass, and we played with a vast number of artists there over the past few years. One of our biggest disappointments of 2020 is not having the chance to play our favorite stomping ground, Mac's Bar.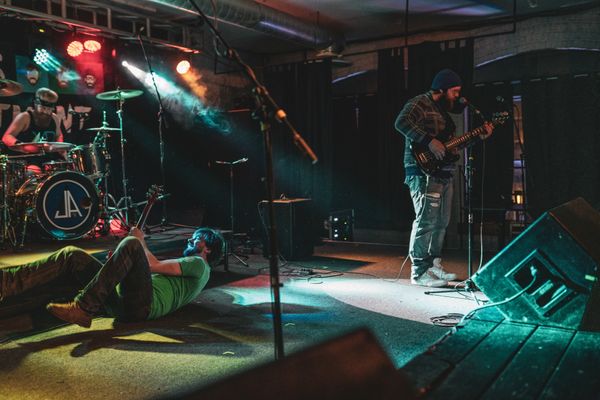 Roy Kirby Post-Fall at The Loft in Downtown Lansing, Michigan.                                    Photo Credit: Donte Smith
Lansing Rock Will Rise Again
Not all of 2020 was completely loose butthole for the Jenn's Apartment crew. We were very pleased to release our latest album entitled The Bird The Bridge The Wire on April 20th (420) of 2020 and we think it's our most tenacious music release to date. Besides us doing what we've been doing, there are many other artists in the Lansing area who are working hard to keep the music community alive. 
Some Awesome Michigan Artists We Want to Mention
There are many, many, many more Michigan artists we could mention but we'll save those shoutouts for another post :)